Geocaches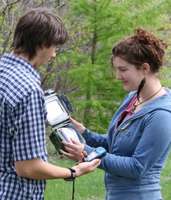 Geocaching is an easy and fun activity. All you need is a few hours to spare, a hand-held GPS device, and a sense of adventure!
We have installed a series of 24 geocache sites which are scattered all over southwest Manitoba. Each of the geocaches are placed at sites of historical significance which reflect the historical, cultural and ecological diversity of this region. In each of the caches we have placed "Story Cards" which describe the history of the site.
Geocaching is our way of getting visitors and locals out on the land and interacting with the fascinating history of southwestern Manitoba. It is a way for us to lead people on a tour of the region while providing a lesson in history/heritage at the same time.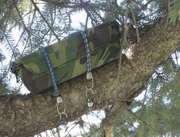 Not familiar with Geocaching? Geocaching is a worldwide game of hiding and seeking treasure. Exact points on the landscape can be pinpointed using GPS technology and published online at geocaching.com. At these sites, hidden containers holding "treasure" (in our case Story Cards) are located. After punching in the coordinates of any chosen geocache into a GPS visitors are led to its location where they search for the hidden treasure.
More information about geocaching can be found at geocaching.com, where our 24 caches are also published.
Visit our caches at geocaching.com or record the coordinates of our sites as listed below:
Local History Geocache Sites - Southwest Manitoba - TMSPHA
Surrounding Melita - RM of Arthur-Brenda
Site #1: Brockington Bison Pound - Lat: N 49° 12.067' Long: W 101° 02.011'
Site #2: Alfred Gould's House - Sourisford - Lat: N 49° 08.024 Long: W 101° 00.480'
Site #3: The Empress of Ireland - Lat: N 49° 05.322' Long: W 100° 59.039'
Site #4: Boundary Commission Trail - Lat: N 49° 08.917' Long: W 101° 00.222'
Surrounding Hartney - RM of Grassland
Site #5: St. Jean Perish - Grande Clairière - Lat: N 49 30.285' W 100 42.155'
Site #6: Lauder Sandhills - Lat: N 49° 27.426' Long: W 100° 41.310'
Site #7: The Fur Trade in the Souris Basin - Lat: N 49 25.745' Long: W 100 42.150'
Site #8: Chain Lakes: Bison Hunt Camp - Lat: N 49° 21.891' Long: W 100° 29.500'
Surrounding Waskada - RM of Arthur-Brenda
Site #9: Railroads Reach the West - Lat: N 49° 05.731′ Long: W 100° 46.810′
Site #10: Turtle Mountain Coal Mining - Lat: N 49° 03.520' Long: W 100° 33.401'
Site #11: Bison: King of the Plains - Lat: N 49° 05.306′ Long: W 100° 32.456′
Surrounding Deloraine - RM of Deloraine-Winchester
Site #12: Prairie Skills Centre - Lat: N 49°11.528′ Long: W 100° 29.785′
Site #13: Old Deloraine Cemetery- Lat: N 49°07.887' Long: W 100° 24.324'
Site #15: Marsden School No.2 - Lat: N 49 08.791' Long: W 100 20.'647
15 Extra (New Site of the School) Now N 49 00.603' W 100 22.084'
Surrounding Boissevain - RM of Boissevain-Morton
Site #17: Buck's Hill Skirmish - Lat: N 49°12.376' Long: W 100° 04.910'
Site #18: Dunseith Trail - Lat: N 49°05.194' Long: W 100° 05.580'
Site #20: Mandan Trail - Lat: N 49 12.502' Long: W 100 08.978'
Surrounding Pierson - RM of Two Borders
Site #21: James Dandy - Village of Pierson! - Lat: N 49°10.846' Long: W 101° 15.415'
Site #22: Bison Rubbing Stone - Lat N 49°07.240' Long: W 101° 17.692'
Site #23: Oil in SW Manitoba - Lat: N 49°06.647' Long: W 101° 20.327'
Site #24: Copley Anglican Church - Lat: N 49°01.805' Long: W 101° 15.114'
BOLD = NEW COORDINATES Italics = Site not Active