Welcome
Welcome to the Turtle Mountain – Souris Plains Heritage Association of southwest Manitoba, Canada!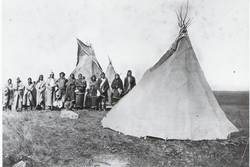 For a historical journey of southwest Manitoba, please take advantage of our Interactive Map feature. This map allows visitors to get a feel for the layers of sites and stories that exist on the landscape.
We are also busy with a number of projects and activities. Check out our Upcoming Events page to find out what we're up to.
"We've each taken on vantage points – be they physical or philosophical – from which we assess our world. Any site or story has many viewpoints."

"There is evidence that humans have used this region to gather food, provide shelter and enjoy community for 10,000 years. On the surface, we hope to celebrate our local sites and stories to enjoy them for their entertainment value. But we also hope to offer inspiration for the road ahead by looking beyond our own communities and comfort zones. As many of us have discovered over the years, our independence depends on our interdependence. It would seem wise for us to understand how this landscape has been used over the centuries so we can better contribute to the knowledge, interactions and lifestyles of our children and their children."

As time elapses the older stories and sites get covered by the new, and so we're making extra effort to uncover those deeper layers. We're hoping to find a blend in which everyone in the region will recognize their heritage as being central to the past, present and future."

David Neufeld, TM-SPHA Board Member, in the Introduction to Vantage Points (Vol I)
Find us on Facebook ....
Vantage Points V
Our fifth edition is now available. Order at: vantagepointsmb@gmail.com
....
Geocache Update
Visit our Geocache Page - New Sites & New Coordinates!
......
Podcasts
Teyana Neufeld has produced a series of Podcasts based on interviews with some local notable people...
.....
Virtual Seminar
Our Virtual Seminar, held on March 18, was well attended. Our guests enjoyed Dr. Gordon Goldsborough's presentation on "More Abandoned Manitoba" and Dr. Mary Malainey's presentation about The Olson site (DgMg-167) and the archaeological research being conducted at a site located south of Melita.
For those who missed it, we present it here: