Stories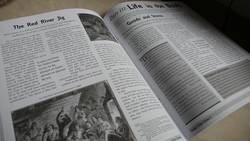 Click here to visit the Heritage Story Index
We continue to collect, research, and record heritage stories from southwest Manitoba. Our stories are short, engaging glimpses into the history of our region. People, places, and events spanning hundreds of years come together to paint a vibrant picture of southwest Manitoba as a culturally diverse and historically unique region.
We first began by writing "one-pager" articles for use during our regional bus tours. Once we had compiled a collection of stories, we refined them into Vantage Points I, II, III & IV. With our focus on new themes every year, our collection of stories continues to grow. We expect to publish Vantage Points V in 2020.
Most stories are accessible through the Interactive Map feature of our website as many of the points on the map are linked to an article page explaining the significance of the site. We also have all of our stories indexed. Click here to visit the Heritage Story Index.
In 2015 we added PDF files of each story, indexed for easy use in classroom projects and for personal research.