Publications
Over the past several years, the Turtle Mountain - Souris Plains Heritage Association has sponsored research on the heritage of our region. The results of that research have been published in four printed volumes.
Vantage Points Books are available at outlets around the region including (but not limited to):
Winnipeg: McNally Robinson, Grant Park Mall
Boissevain: Boissevain and Morton Regional Library, Wildlife Museum
Hartney: Municipality of Grassland Office
Melita: Town of Melita Office, New Era/Corner Pocket Newspaper, Melita Library
Pierson: Municipality of Two Borders Office
Souris: Whitfield Drugs 33 Crescent Ave
Brandon: Riverbank Discovery Centre
Brandon: Daly House Museum
Waskada: Municipality of Brenda - Waskada Office
Deloraine: Municipality of Deloraine-Winchester Office / Deloraine Times / Deloraine Library
...
Email:vantagepointsmb@gmail.com
All Vantage Points Stories and much more are available on this website.
Browse the location
View the full story list indices).
...
Vantage Points V is here!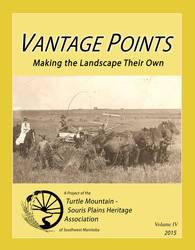 Vantage Points (Volume IV): Making the Landscape Their Own.
Published December 2015
Researcher and Author on behalf of the TM-SPHA: Ken Storie
Vantage Points IV is the newest volume of Vantage Points. In it we continue our exploration of the people, places and events that make our region unique and interesting.
"... we know that when the homesteaders arrived, this wasn't an empty land. Travelers didn't have to forge completely new trails; those paths were already there, pounded into the landscape by the migrations of the buffalo that were followed by the Aboriginal peoples."

Words from Leona Devuyst's Afterword
...Pick one up today!
...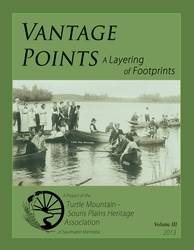 Vantage Points (Volume III): A Layering of Footprints.
Published April 2013
Researcher and Author on behalf of the TM-SPHA: Teyana Neufeld
We are proud to present Vantage Points III! Stories in the newest volume of Vantage Points come from all around our region. They range from archaeological digsites in the Lauder Sandhills, to a discussion on the first Numbered Treaties, from centres of recreation to surviving churches and general stores. Pick one up today!
"A single footprint is nearly invisible; quickly erased by wind and weather. it is when dozens, hundreds and thousands of footprints become layered on top of one another that we see evidence of people passing. The footprint itself is not what we are seeing - it is the evidence that people were here, and remain here by relying on the steps taken by those who have come this way before."

Words from Teyana Neufeld's Welcome
...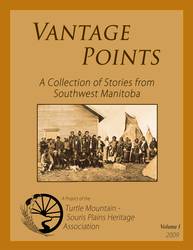 Vantage Points (Volume I): A Collection of Stories from Southwest Manitoba.
Published January 2009.
Researcher and Author on behalf of the TM-SPHA: Teyana Neufeld
The first volume of Vantage Points grew from a series of "one pager" articles which were developed to be part of the booklets we put together for use on our regional tours. These articles were edited further and formed into a publication.
"The Turtle Mountain area of southwestern Manitoba is steeped in history and this excellent book makes it come alive. There is something here for any fan of Manitoba history. Those interested in historical sites will find stories about frontier posts like Lena House and Fort Mr. Grant, one-room schoolhouses, a First Nation reserve (the smallest in Canada!) and ghost towns such as Whitewater and Turtle Mountain City. In the days before provincial highways, trails meandered across the prairie and here we learn about the pathways of history passing through the region, such as the Boundary Commission Trail, the Boiler Trail, and the Dunseith Trail. The stories are enriched by the many colourful personalities who made the sites noteworthy: the rum runners, coal miners, naturalists, Metis fiddlers, and wily entrepreneurs."

Words of Gordon Goldsborough, Past President and Webmaster of the Manitoba Historical Society in the Guest Introduction to Vantage Points.
...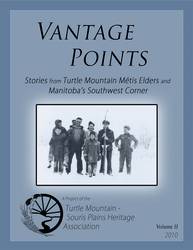 Vantage Points (Volume II): Stories from Turtle Mountain Métis Elders and Manitoba's Southwest Corner.
Published September 2011.
Researcher and Author on behalf of the TM-SPHA: Teyana Neufeld
This volume features many articles focusing on the Metigoshe/Turtle Mountain Métis Community. In 2009 we recorded interviews with 21 elders from the Métis community. These interviews have been consolidated into article form in order to paint the picture of life as it was lived in the Turtle Mountain bush over 50 years ago.
In 2010 we added two new regions to our area of activity: the rural municipalities of Arthur and Edward and the towns of Melita and Pierson. We're pleased to share stories from this, the most southwesterly, corner of the province in this volume of Vantage Points.
"I truly enjoyed Vantage Points I. I picked it up one evening and never put it down until I finished the entire booklet. I have had the privilege of reading Vantage Points II and I can assure you that it is just as engaging as the first edition. I would like to thank Teyana Neufeld for her professionalism, great writing ability and for giving the Métis Elders in Turtle Mountain the opportunity to share some of their stories.

In my own journey, I have come to believe every person needs that personal connection to the world around them in order to live a good healthy life. Sharing our stories and our history, with more commonalities than differences, allows us to go through life with a deeper understanding of each other.

Thank you to the Turtle Mountain-Souris Plains Heritage Association for seeing the value in doing these historical booklets. We can only hope there are more to follow."

Words of Leah LaPlante, Vice-President of the Manitoba Métis Federation Inc. Southwest Region in the Guest Introduction to Vantage Points II.
...
...............................