The old joke is that the little villages on the Manitoba prairie can be so small that if you blink you just might pass by without noticing them.
Looking at the abandoned site of Broomhill today, you can see how it might have been such a village, except for the large two-storey structure that still stands on this quiet stretch of Provincial Road 345.
It makes you wonder. Why such a large building in a tiny hamlet?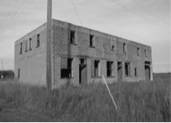 Perhaps when local Postmaster William Kilkenny and his brother John built it in 1908, they were not only optimistic, but also ahead of their time.
The community of Broomhill didn't yet have a rail line and it was a long drive to either Melita or Reston for supplies.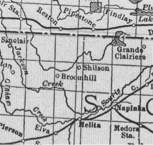 Every little village needed a store and a post office, and later, a garage and gas station. An implement dealership would also be valuable service. Whoever ran the place would need a place to live. Why not put them all in one building?
They say that shopping malls weren't invented until the 1950's!
In its heyday, the Kilkenny store was the centre of the community. It practically was the community. More than a service centre – it was a meeting place – even a dance hall.
In addition to all its practical usefulness, it also had style. The building's east and south walls are made from patterned concrete blocks, cast on site using sand and gravel obtained nearby. Pressed metal walls and ceiling panels lined the interior.
The business was operated by a succession of Kilkennys until it closed in September 1964.
Of course the hamlet of Broomhill was more than just a store. That it appears on the 1905 map of Manitoba is likely due to Broomhill Post Office – established in the region in 1892.
The school, which also opened in1892, was called Hathaway School. Later, in 1899, a school named Broomhill was opened a few kilometres southwest of the village. They joined in 1958 to become Broomhill Consolidated School No. 2363. The community also had a cemetery, located west of the village site.
But that's about it.
. . . . .
Author: Ken Storie
Sources:
http://www.tinhousedesigns.ca/stories/ Historic Sites of Manitoba: http://www.mhs.mb.ca/docs/sites/broomhillstore.shtml Photo by Gordon Goldsboro, from Historic Sites of Manitoba 2011 Map: adapted from: Geo. F. Cram. Map of North-West Ontario Manitoba and North-West Districts [map]. Chicago:, 1890.
Links: