Annual Conference
Each year we present a Local History Seminar in conjunction with our Annual General Meeting.
Virtual Seminar
Dr. Gordon Goldsborough President & Head Researcher Manitoba Historical Society
Topic: "Abandoned Manitoba "
Dr. Goldsborough will report on highlights from his popular "Abandoned Manitoba " books and radio broadcast.
Dr. Mary Malainey Professor of Anthropology Brandon University
Topic: The Olson site (DgMg-167)
Dr. Malainey will discuss the archaeological research being conducted at this pre-European contact Indigenous agriculture site located south of Melita.
We would love to put you on our mailing list to keep you updated with future events. **Please email us at vantagepointsmb@gmail.com
AGM and Seminar - was held Friday 22 March, 2019
Moving Forward with Regional Partnerships
Topics:
TM-SPHA Projects & Activities Update
Roundtable Discussion: Perspectives from Museums in the Region
Film Presentation – "Turtle Mountain Mud – The Story of the Coal Mines
Regional Perspectives and Partnership Opportunities:
The Pierson Heritage Aassociation / The International Peace Garden / The Turtle Mountain and West Souris Conservation Districts
Deeper, Clearer: The Truth and Reconciliation Commission • What role do we see for TM-SPHA?
........
Heritage Assembly Reports from the Deloraine Times & Star
Previous Conference Highlights
TURTLE MOUNTAIN SOURIS PLAINS HERITAGE ASSOCIATION INC.
Local History - It's A Happening Thing
MARCH 22, 2018
Mountview Centre, Deloraine, 10:00 AM – 2:00 PM
Introduction:
Gary Williams welcomed our guests.
Danette VanCauwenberghe brought greetings from the Municipality of Deloraine-Winchester.
David Neufeld paid tribute to Steve Racine
Ken Storie and David Neufeld outlined some of our recent projects and plans.
Feature Presentations:
Gordon Goldsborough. Abandoned Buildings - Changing Landscapes
Gordon began by telling as about the origins of his interest in mapping and documenting heritage sites. It all started with a trip to the Deloraine area and an effort to find the Old Deloraine Bank Vault. That experience led him to begin the process of making it easier for all Manitobans and visitors to our province to find, visit and enjoy the incredible range of historic sites that are out there.
He continued with some insights into what the abandoned sites can tell us about our history, changing lifestyles, and changing communities.
With wit, passion and an explorers eye for detail he led us through a slide show that featured a prominent collection of elevators and a very interesting account of his recent visit to Hudson's Bay.
Some good questions followed. Gordon encouraged all of us to send him informations about sites we think should be included.
He left us with the good news that a sequel is planned to his best selling book, "Abandoned Manitoba".
Visit some of his work here:
http://www.mhs.mb.ca/docs/sites/abandoned.shtml
[This Old Elevator}(http://www.mhs.mb.ca/docs/sites/thisoldelevator.shtml)
A Highland Empire
Our next feature was a screening of "A Highland Empire", a 2007 release by BBC Scotland. This story of the Fur Trade and the Metis features a key segment shot in the Turtle Mountain region with local participants. Grant Armstrong, who participated in the project gave us some background information about his experience. Leah LaPlante, who also appears in the film sent us a message about her experience. A re-enactment of a buffalo hunt was one segment recalled fondly.
Local History in the Classroom.
Local educators offers some thoughts on using local content in the classroom.
Magdalene Andres – Minto School K – 8
Maggie Andres gave us details of her collaboration with Teyana to introduce a history unit. Field trips, visits to the Graveyard, creating a geocache, reading and commenting on Vantage Points articles - all helped student get connected to the history of their home region and beyond.
A Local History Course - by Bob Caldwell
As a teacher in Deloraine Bob created and taught a highly successful and fondly remembered School Initiated Local History High School Course. Field trips, student produced materials, interviews were all part of what made it real and what made it work.
Materials That Help - Bill Warren
Bill reported on two projects that are available to teachers that provide accessible local content. Both are in the form of binders and available online.
The Melita School Materials Project presents information on Melita's Buildings, Notable People and Pivotal Events, along with a collection of Maps, Photos and old Newspaper Clippings specific to the Melita area. Suggestions for use are included.
The Vantage Points production - Local History of our Region is a series of short - reproducible articles tracing the history of the Turtle Mountain-Souris Plains region and its communities.
Thanks to the Deloraine Times & Star and Radio CJRB for their excellent coverage and general support.
Presented below are reports from two recent conferences.
TURTLE MOUNTAIN SOURIS PLAINS HERITAGE ASSOCIATION INC.
CONFERENCE on MARCH 13, 2017 Mountview Centre, Deloraine, 10:00 AM – 2:00 PM
Presentation Highlights
Why Local History Matters - Ken Storie:
School textbooks, by their very nature, are short on local details. These details, however, when presented along with the "overview" provided by the approved texts, can help students better appreciate the role of their community, and history in general. Ken will offer examples from our area and explain a Turtle Mountain-Souris Plains Heritage Association project that we hope will help.
Film Presentation
Reserve 107 - Reconciliation on the Prairies
A thoughtful and encouraging look at how a Saskatchewan farm community, living on what was reserve land, is joining forces with the Young Chippewa band now claiming their land back.
Indigenous rights and title to the land remains a taboo topic for many across Canada, but in the small town of Laird, Saskatchewan, an old injustice is providing new opportunities for dialogue, friendship and a fierce determination to right the wrongs of the past.
With support from Mennonite Central Committee Saskatchewan and St. Johns Lutheran Church, Rebel Sky Media and director Brad Leitch have produced a thoughtful and informative film.
Opportunities and Challenges in a less stable world - David Neufeld:
How do the stresses of climate change, political polarization, widening wealth gap, and the continuing cascade of supreme court rulings in favour of aboriginal claims affect our daily lives and our mission as a heritage association? What other other stresses impact how we do our work?
David invites discussion on these issues: roomtogrowdm@gmail.com
Suyoko Tsukamoto & Holly Cote
Suyoko is currently the Impact Assessment Archaeologist, with the Historic Resources Branch, and spent many years as a Sessional Lecturer in Anthropology at Brandon University. She also writes columns for the Brandon Sun and articles for Manitoba History and other publications.
Suyoko grew up in Brandon and has an extensive first-hand knowledge of the region. She has participated in a wide range of projects exploring both the distant and more recent past. She has explored Camp Hughes, Manitoba POW Sites, and Aboriginal burial sites. She has given presentations about; "methods anthropologists use to differentiate animal from human bone" and written on local history topics such as; "Cool Things in the Collection: The Fred McGuinness Collection"
Holy Cote works with Suyoko and serves as the Municipal Consultant for the Historic Resources Branch. Holy and Sukoko recently visited our region to examine an aboriginal burial site. Holy outlined support and grant programs designed to preserve heritage sites and offer assistance to municipal heritage groups.
Local Initiatives – Bill Warren
The Pierson and Area Heritage Committee has staged a series of displays at the local library on topics such as Local Schools and Aboriginal History. They created James Dandy Park and a heritage display near the entrance to town.
TURTLE MOUNTAIN SOURIS PLAINS HERITAGE ASSOCIATION INC.
CONFERENCE & ANNUAL GENERAL MEETING on MARCH 14, 2016
Theme: The Times – They Are A'Changin
Monday March 14, 10 – AM - 3 PM
Mountview Centre - Deloraine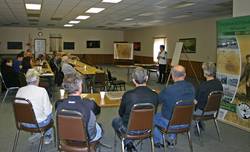 Head of Council for Deloraine – Winchester, Gord Weidenhamer, 4th-generation farmer, welcomed visitors to the community. He mentioned the value of the Vantage Points books and thanked retired local history teacher, Bob Caldwell, for developing his interest in heritage.
Turtle Mountain Metis Elder and a founding member of the TMSPHA, Steve Racine, offered a prayer. Clark Combs, neighbour and long-time family friend of Neil Hathaway, presented a memorial about TMSPHA's vice-chair who passed away in August of 2015.
David Neufeld spoke to the theme "Times - They are a-Changin'.
We are moving into a different era, but want the relationships to continue to thrive in future generations. We want to present some of our projects via different media, such as videos and increased use of the website. He also talked about his childhood years in a closed Mennonite community at Whitewater where his ancestors settled this land similar to their former Ukraine farms. He spoke of the Mennonite experience in Russian and his experiences in South Africa - drawing lessons from those experiences that link them to the here and now.
Chief Viola Eastman of Canupawakpa Dakota Nation expressed her love of the Dakota and their culture and language. She offered an interesting perspective in the Residential Schools issue, reminding us that many parents accepted having their children attend residential school. They wanted their children to learn English and other thing about European culture that might help their communities adapt. What they didn't anticipate was that that their own language and culture would be taken away from them.
Following their oral tradition of passing on history to the children, Viola's parents taught their children to speak Dakota and understand their heritage. Her community's school division, Fort la Bosse, is offering indigenous curriculum courses for their First Nation students.
Leah LaPlante, a long-term leader of her Metis community in southwestern Manitoba paid tribute to the many individuals who have made a differene in the Turtle Mountain Local, such as Steve Racine, Ken Leforte, Sharon (Conway) Parenteau, Lorne and Mary Conway, Grant Armstrong . Leah also stated that retired Deloraine teachers Bob Caldwell and Rick Schoonbaert provided the favorite part of schooling for two generations of Metis students.
During Leah's young adulthood, she began to research who she was as a Metis person and what it means to be a Metis. In Grade 6, the history lesson Leah was taught was that Louis Riel was a traitor. She kept her hand down when the teacher asked if there were any Metis in the class. Now Leah feels that she is "the proudest person walking the mountain." Her research told her that her grandparents played a big part in building Manitoba. The Racines are descendants of Cuthbert Grant.
Leah also gave us the history of Metis issues such as "harvesting rights". and noted that Premier Selinger recently acknowledged Louis Riel as being the first government leader of the province of Manitoba. Sharon Parenteau reviewed the history of the Metis people in Manitoba and the development of the Manitoba Metis Federation. She reviewed key points in the MMF's consultations with governments, such as the Powley Decision. Sharon then described the MMF's Metis Harvest Initiative and summarized the Metis Land Claim case.
Tom Mitchell, a retired professor at Brandon University spoke about using video productions to present history. Tom showed his recently-made video about early Brandon. He said that we live in a digital age and the tools are available, suggesting that a video on the Boundary Commission Trail would require two photographers plus our own research material that provides great stories & story-lines and visuals of the landscape, community places and people. He said that the human voice component makes a big impression on video. Music can also be important and recommended that we find local people to compose music.
Our researcher and writer, Ken Storie, discussed "Connections". When we reach out, we can find hundreds of things about southwest Manitoba that we didn't know about. We try to reach out to our readers; teachers and students; collaborators in order to gather stories about old buildings; natural sites; trails and rivers; ancestors, and technology. We might sometimes not know the whole story, so appreciate feedback from our readers. For example, in VP4's article on Sitting Eagle, we may have misidentified the two men who discovered Sitting Eagle after his death. Leah says it was her two grandpas.
...........................
2015 AGM & Conference - Report

TURTLE MOUNTAIN – SOURIS PLAINS HERITAGE ASSOCIATION INC. ANNUAL CONFERENCE & AGM @ MOUNTVIEW CENTER, DELORAINE
ON THURSDAY, APRIL 9TH - 10:00 TO 2:30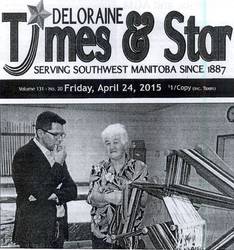 ...............................
Introductory Remarks
Neil Hathaway, TMSPHA vice-chair
Welcome from Deloraine-Winchester Reeve - Gordon Weidenhamer
Project Manager's Report
Ken Storie reviewed projects underway such as Vantage Points IV and Interpretive Signs projects for Waskada, The Goodlands area coal mines, and the Souris River Fur trade posts.
Ed Ledohowski - Community Outreach
Recently retired from the Manitoba's Department of Tourism, Culture, Heritage & Sports, Ed Ledohowski described possible ways for tourism and heritage groups to develop opportunities for community outreach and economic development. He defined success as getting information out to our residents and making our research materials available on the internet as well as through books.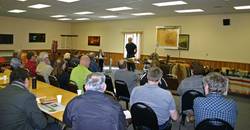 Chief Vincent Tacan
Chief Tacan of the Sioux Valley Dakota Nation discussed some of the past history of the Dakota people. Many of the present Sioux Valley residents are descended from families who were removed from the Turtle Mountain Reserve in the early 1900s. Archaeological research has shown through artifacts that the Dakota had lived in our region for a long time prior to the arrival of fur traders and homesteaders. The word "Dakota" is translated as "allies; friends." They fought alongside the British in battles such as the War of 1812. The chief felt that it is important for every community to look at their own history and to make sure that their children become aware of the heritage and culture of their own people.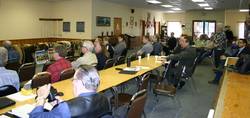 David Neufeld
As a follow-up, David Neufeld talked about reading the book 1491, the title referring to the year before Columbus' voyage. In this era, the prairies were well-settled; there was a thriving buffalo-based economy. The Western Hemisphere held 90 to 112 million people, resulting in a higher population in the Americas than in Europe. The indigenous population had their own dynamic cultures. But this period was ended by a general unsettling of the prairies, when traumatic events such as smallpox epidemics caused the loss of about 95% of the population. Then came another settling of the prairies when the European immigrants arrived in western Canada.
Metis Elders Teaching in the Schools
Jackie Leforte and Mary Conway discussed some of the information that they tell students and teachers in their METIS (Metis Elders Teaching in the Schools) presentations. They reviewed a brief history of the Metis people; some of their most notable members; their livelihood and traditions, including their great love of fiddle music and jigging. Following their discussion, a prayer was offered by Father Paul Bisson, whose family can trace its history in Canada 14 generations. Then the audience members were provided with a delicious lunch of stew and bannock.
The "Unsettling" of the Prairies
Following lunch, David Neufeld talked about the need for First Nation and Metis peoples to tell their own difficult histories, as Euro-settler progeny have difficulty telling the story of the unsettling of the prairies. First Nation and Metis elders should not be afraid to tell their stories of times of trauma. The words are hurtful, but the message is highly significant.
James Wilson - Manitoba's Treaty Relations Commissioner
Mr. Wilson talked on a variety of topics, including the history of the Numbered Treaties and the Indian Act, and an explanation of the impact of these documents on today's events.
He emphasized that First Nation's people have a long history of negotiating treaties, and he explained that the purpose of the Treaty Commission is to give both perspectives in a neutral & independent manner. He outlined how the Royal Proclamation of 1763 was important in that it created the legal framework under which treaty rights were recognized and confirmed.
He reviewed some of the purposes of the treaties and explained how through successive bargaining, new clauses were brought into the dialog such as the provision of schools & agricultural equipment, that continue to play a role today.
Mr. Wilson also offered his unique perspective on early First Nations history; about the successful civilizations in pre-Columbus America and the role of both oral history and archaeology in telling those stories.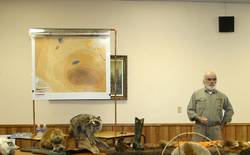 .....................
Trapping
Metis-in-the-Schools presenter Grant Armstrong brought a wide selection of display items to the conference. He talked about the stringent criteria now regulating the trapping industry. Licenses registered trappers generate $3 million yearly, providing raw materials to the garment industry. One item shown was a western boot made of leather from beaver tail and steer-hide for the upper parts of the boots. Grant spoke about the importance of respect within the industry – not only respect for the environment but for the people.