Bus Tours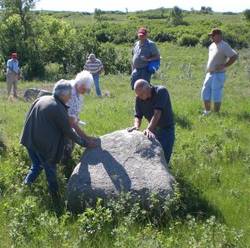 The TM-SPHA has organized very popular guided regional bus tours, for both the public and school groups. These tours have taken in lesser known heritage sites and stories that paint a vibrant picture of the past.
Check back with us soon for more details!
. . . . .
Tour Archives
In backwards chronological order (beginning with the most recent).
Whitewater-Chain Lakes - August 2011 - "Explore what's left of the ancient glaciers in our own backyard! A look at the sites and stories that surround these ancient and sometimes forgotten bodies of water." Leaves from: Deloraine
Turtle Mountain - August 2011 - "Due to the popularity of last year's Turtle Mountain, we are offering the same tour this summer! Join us as we explore the mountain from west to east." Leaves from: Deloraine
Melita-Pierson Tour - August 2010 - "Check out the extreme southwest corner of the province as we explore the rich history surrounding the Souris River and move westward to the Saskatchewan border." Stops include: Melita Museum, Brockinton Site, Boundary Commission Trail, Sourisford Linear Burial Mounds, Coulter, Coulter Park, Lyleton, Copley Church, Bison Subbing Stone, Pierson, Eunola School. Plus More! Leaves From: Melita
Turtle Mountain - July 2010 - "You think you know Turtle Mountain? Join us as we explore the Canadian side of the Turtle from end to end, taking in breathtaking views and charming quiet spots where a peek into history illuminates fascinating stories from the Mountain's past." Stops include:St. Paul's Cemetery, West end of the Turtle, Turtle Mountain Reserve (IR60), Metigoshe Metis Community, Max Lake Sawmill, Dunseith Trail, Skull Swamp, Old Wakopa Cemetery, Wakopa, Great Northern Railway, Mountainside, Old Deloraine Bank Vault. Plus More! Leaves from: Deloraine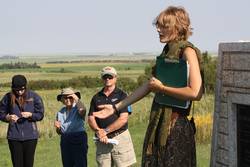 Arthur-Melita Tour - September 2009 - Stops Include: Melita Museum, Brockinton Site, Snyder Archaeological site, Coulter Park, Sourisford Linear Burial Mounds, Medicine Wheel. Plus More! Leaves from: Melita
Chain Lakes and Lauder Sandhills - August 2009 - Stops include: Chain Lakes, Petroforms, Melgund, Fort Ash, Grande Clairiere, Lauder Sandhills, "Blue Flea" CPR Line. Plus More! Leaves from: Chain Lakes Beach, south of Hartney
Whitewater Turtle Mountain Tour - September 2008 - During this tour, our aim is to lift out lesser known stories of the area. We're hoping to add some depth and breadth to the already intriguing attractions in the area. Any one site or story has many windows to it. The stories herein point to the colourful array of personalities, struggles and generosities that have shaped us." Stops include:Strathallen School, Whitewater Village, Turtle Mountain Conservation District Observation Tower, McCharles Cabin, Billy's Point, Ducharme Property, Dunseith Trail, Skull Swamp, Old Wakopa Cemetery, Bill Kentner's Great Northern Railway Museum. Plus More! Leaves from: Boissevain
Souris Plains Tour - June 2008 - "We're offering a familiarization tour to several significant heritage sites in the western half of Southwest Manitoba." Stops include: Chain Lakes, Quaker Friend Meeting House, Waskada Museum, Sourisford Linear Burial Mounds, Coulter Park/Sourisford, Verona School, Turtle Mountain Reserve (IR60), Old Deloraine Land Title's Office (Newcomb's Hollow), Old Deloraine Bank Vault. PLus More! Leaves from: Deloraine