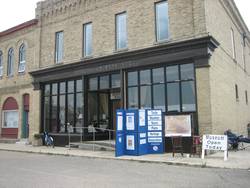 OPEN in July-Aug. Or by Appointment
PHONE: 204-858-2127 or 204-858-2064
Admission by Donation
Location: 310 Poplar Street, Hartney
1999 - Present
Museum History
In the mid 1970s the Hartney Chamber of Commerce put a committee together to go about looking for a space suitable for a museum. With some grant money, temporary quarters were found to house the articles that had already been donated or loaned to the Museum-to-be by local residents.
In 1977 the RM of Cameron moved locations, and offered their old building to the Museum committee. The two-storey structure was a heritage building, having been built in 1905 for use as an office, warehouse and lumber business. Since then, the building had been used as a part residence, schoolhouse, farm machinery business and the Manitoba Poultry Marketing Association's headquarters before being turned into municipal offices.
After moving in, the Museum committee set about renovating the ground floor of their new building. The newly named Hart-Cam Museum officially opened in June of 1978, with a collection of artifacts that reflected the lives of the pioneers of the area. Students were hired each summer to work in the museum and catalogue the museum's collection.
In 1998 the Museum's roof was in bad need of repair, a job which would cost $10,000. The Museum committee decided instead to relocate, which is when they bought the former A. E. Hill Co store.
Things to See
Hole in the wall from The Lookout filming
Pioneer artifacts
Rustic Tools
Fashion
Archival material, local family histories
. . . . .
Related Articles:
. . . . .