1949 - 1962
Ben Arde was born in Saskatchewan in October of 1926. His parents farmed there until the 1930s. When Ben was eight his father, originally from Wakopa, moved his family back to Manitoba, this time settling south of Mountainside.
Ben farmed for a couple of years but he found it difficult to make a living—he bought the store in Mountainside as an alternative. He married Phyllis Halliday in 1952.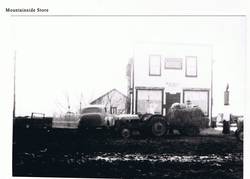 "I bought the store from Tufts in 1949, it was called B.A. Arde. It was a general store and a hardware store, and I had a television business out of there as well: selling and repairing televisions.
"I never wanted to repair televisions. I used to like fixing radios and I always did that. Sammy Oak was selling television sets in Boissevain. He would change tubes but he didn't know anything about them. He phoned me one night and asked if I'd try to do some repairs. I said that I didn't want anything to do with them, but he said that he would bring them down anyways. He seemed to have enough parts to do it so we fixed those. The next week he brought in five more for repair. Then I took a correspondence course with National Schools one winter.
"So I did repairing for Sammy Oak, and a guy in Killarney, and another guy in Elgin. They brought the televisions up after supper and I'd work half the night on those things. I didn't get paid for the first ones I fixed. So I said to Phyllis, 'If we're going to be fixing these televisions for nothing, we might as well be selling them.' We sold 45 of them that first winter. I think we used to sell that Phillips television for $225. They were something that was pretty sophisticated. There were 21 tubes in them.
"The store also sold gas, coal oil and oil. We had underground gas tanks. The living space upstairs was big enough for us. It had 3 bedrooms and was warm enough in winter after I insulated it.
"We had the post office in the store. Phyllis was the postmaster and she used to get $16 a month. We had 200 mail customers: everybody in the bush went to Mountainside to get their mail. The mail was brought up in a car three times a week from Whitewater. The store owner at Whitewater did the separating of the mail based on whether it went east or west, on the CP or CN railways. There were all kinds of mail, from Eaton's and Simpson's catalogs to welfare and pension cheques.
"There was always something interesting going on in Mountainside. People in that little place all stuck together." In addition to the store there were nine houses, the school and two elevators in town.
"Nobody plowed the streets or anything in the winter. If you got stuck, you'd only be stuck for 10 minutes and there'd be guys coming out of their houses with shovels over their backs, coming to help you out. They had church in the school and there was a public dancehall in the basement which had a hardwood floor. There were a lot of good dances there.
"All the kids in Mountainside, whenever one of them had a birthday, I had to give them a bar and a coke (worth 5 cents each). So they always let me know when somebody had a birthday. If there were any bicycles or wagons that needed fixing in the spring and sleighs in the fall, I always did that for them.
"Trying to make payments on the store was hard. We had just got it paid for and had three years good going before they pulled the railway on us. I could see every couple of months we were digging into our savings to pay the bills and finally we couldn't make it anymore. We were there until '62. Michealuks bought the store from us. When they bought it, we told them that it was no longer a viable store.
"After that I went to work for Alton Breault for eight years working on televisions, including the first colour TV. Then I got a job at the hospital in maintenance and was there for 18 years until 1998. After that, I retired."
Ben Arde is well known in Deloraine for his volunteer position at the rural airport, where he maintained the grounds and runway for many years. He is currently retired.
. . . . .
Related Articles:
. . . . .
Source:
Arde, Ben. Interview conducted by Leona Devuyst and Mary Conway. 19 Oct 2012.