1891 - Present
One of the first homesteaders in what came to be known as the district of Elva was H. J. Archibald and his family. They came from the east in 1882 and settled northwest of where Elva was later built. Archibald established a post office out of his home, which received the mail once a week from Brandon.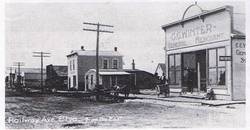 In 1891 James Skelton agreed to sell some of his land to the Canadian Pacific Railway, which was looking to continue the line west from Melita. An unincorporated village grew on a corner of Skelton's land. The community was later named after the first baby to be born in the district: Elva, the daughter of James Modeland and his wife.
Elva continued to grow, and by 1904 the community boasted a population of 100 people. Four years later the numbers had grown to 150 people, causing basis for a rumour that the community was at one time bigger than Melita. Elva seemed to be on the road to becoming a very important town—its elevators serviced farmers as far south as the international boundary. But the community's prosperity was not long-lived. Passenger service on the rail was terminated in 1959. In 1962 the stock yards by the tracks were demolished as it became more effective to ship cattle by road than rail. The railway continues to run through Elva, however the town is but a shadow of what it was a hundred years ago. Today the village is home to a handful of buildings and eight residents. The town is significant for being the home of Canada's oldest grain elevator.
The school in Elva is significant because it managed to survive consolidation. Built originally northwest of Elva, the school building was moved into Elva in 1898 where it was quickly outgrown. Rebuilt several times to provide more space, the school served as an Elementary school after 1965 until closing finally in 1974.
In 1989 the Women's institute of Elva put up a memorial cairn and flagpole to commemorate both the community and the school. The unveiling was attended by a large crowd of local people, former pupils and residents.
. . . . .
Related Articles:
. . . . .
Author: Teyana Neufeld, 2013.
Source:
Melita-Arthur History Committee. Our First Century. Altona: Friesen Printers, 1983. Pgs 309-314.